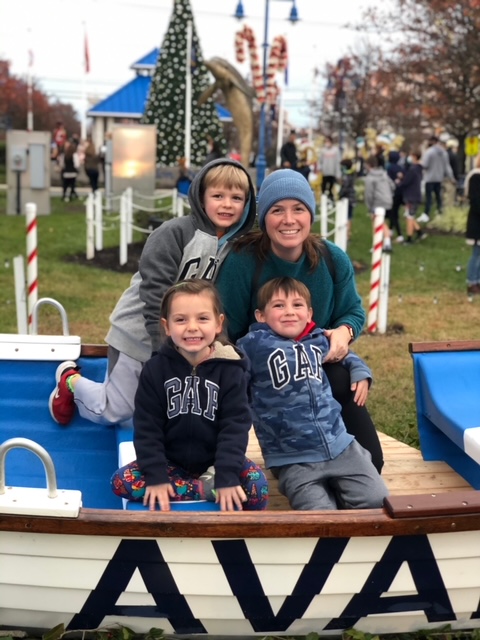 What is your story and how did you get started?
I grew up in rural Connecticut, second of four children in a hard working blue collar family. My dad was a carpenter and my mom worked for her father in his furniture factory. No stranger to hard work, I forged a unique path for a small-town girl and let little stand in my way. After attending Miss Porter's School on scholarship and then achieving a BS in Mechanical Engineering from UVA, I carved a path into the male-dominated motorsports and automotive industry. First NASCAR's Hendrick Motorsports, then Ford Racing, Land Rover UK, and BMW NA before matriculating at Harvard Business School to continue my education. Chasing a dream to own and run my own business, I spent the time at HBS working on 'Chicane', a performance motorsports apparel business designed for women. After HBS, I explored general management and had opportunities to run industrial manufacturing operations for Danaher, then led a PE-backed manufacturing company called Acco Material Handling Solutions as president and CEO. Today, I serve as partner in a boutique private equity firm where my focus is driving breakthrough growth in our portfolio of lower middle market consumer products and business service companies. I am grateful for the opportunities and mentorship I've received along the way, and for the courage and work ethic I inherited from my family. Continuing as a strong female leader in a male dominated field is an honor and a responsibility.
What are your companies?
L2 Capital Partners and current portfolio companies (Jurassic Quest, Associates in Medical Physics, Orion Talent, Insight 2 Design, and Rugs Direct)
How does having a family impact your life as a business person?
I have three young children ages 6, 5, and 4. They are amazing additions to my life. Having young children balances me as a businessperson, teaches me patience, and forces me to be efficient at all times. My husband Brad and I met later in life (age 36), so our careers were already well under way. We understood what it would take to continue our careers, and the commitment required to start our family. We ensure that we have all of the support and help on board to offset our time committed to business. We schedule expertly, we work collaboratively to ensure one of us is always available for our children, and when we are with our children they get our full attention. At work, we are both focused and efficient. I wouldn't trade the balance and love for family and business for anything in the world.
What makes you different?
My humble upbringing and advanced education combined with a fierce desire for adventure and genuine care for people provides me with a unique lens through which to view the world. I fought hard every step of the way, and I prioritized educating myself both academically and through leadership experience. Because I grew up doing hands-on labor, I feel better equipped to lead laborers. Because I drove operational turnarounds and rapid growth while leading companies, I feel better equipped to coach other CEO's in our portfolio to do the same. I like to connect the dots, and my superpower is structuring and solving strategic problems collaboratively. This has led me to pursue the road less traveled in life and business, and while it may not be the easy road, I continuously inspire myself and others to take on the challenge.
What is your goal/end game?
My personal purpose is to inspire people to collectively achieve things once thought unachievable.
My end game was to find an entrepreneurial opportunity where I can live out this purpose, and I have discovered the perfect fit at L2 Capital Partners.
What do you do in your spare time?
We spend our spare time at the beach- biking, running, swimming, and going on adventures with our kids. When the kids get a little older, we anticipate getting back to our shared passion for travel and exploration.
One word of advice for other mothers in business leadership.
There will always be one more thing to do for the business, set boundaries (a stopping point) so you can spend quality time with family.
What's an online tool you use often to improve your life?
Headspace, Love Nudge
What is your favorite quote?
"Submit to pressure from peers and you move down to their level. Speak up for your own beliefs and you invite them up to your level. If you move with the crowd, you'll get no further than the crowd. When 40 million people believe in a dumb idea, it's still a dumb idea. Simply swimming with the tide leaves you nowhere. So if you believe in something that's good, honest, and bright – stand up for it. Maybe your peers will get smart and drift your way." – Harry Gray c. 1970's CEO of United Technologies
If we wanted to support you, how could we do that?
As a new partner in private equity (and one of few female partner/owners in the lower middle market), I would appreciate opportunities to share L2 Capital's track record and upcoming investment opportunities with active investors interested in backing a truly operationally focused approach led by a proven industry operator.
Any final thoughts?
I absolutely love being a partner, coach to CEO's and a mom. I am grateful that I love my job, and that I have the flexibility to be the best business leader AND mom I can be. (It's AND, not OR.) It fulfills me and makes me whole, and I know that I am setting the right example for my children.